Acts 17:10-11
Then the brethren immediately sent Paul and Silas away by night to Berea. When they arrived, they went into the synagogue of the Jews. These were more fair-minded than those in Thessalonica, in that they received the word with all readiness, and searched the Scriptures daily to find out whether these things were so.
Romans 5:8
But God shows his love for us in that while we were still sinners, Christ died for us.
Matthew 24:35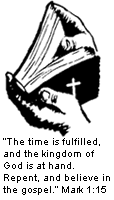 Heaven and earth will pass away, but My words will by no means pass away.
Hebrews 12:14
Pursue peace with all people, and holiness, without which no one will see the Lord.
♥ Jesus loves you ♥