in Arabic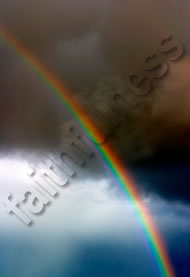 Deu 7:9-10 "Therefore know that the LORD your God, He is God, the faithful God who keeps covenant and mercy for a thousand generations with those who love Him and keep His commandments; "and He repays those who hate Him to their face, to destroy them. He will not be slack with him who hates Him; He will repay him to his face.
Psalm 31, 23-24 Oh, love the LORD, all you His saints! For the LORD preserves the faithful, And fully repays the proud person. Be of good courage, And He shall strengthen your heart, All you who hope in the LORD.
2. Timothy 2, 11-13 This is a faithful saying: For if we died with Him, We shall also live with Him. If we endure, We shall also reign with Him. If we deny Him, He also will deny us. If we are faithless, He remains faithful; He cannot deny Himself.
It is good to know that God is faithful. He is there at all times, always ready to help us, and to show us a way out or offer a solution for a difficult situation. This means, that with complete trust, we can put our lives into His hands, for He will never leave us just hanging there!

On the other hand, the Lord wants us to be faithful to Him. This means that we should follow Him and not the ruler of this world. We do not want to "go astray and be unfaithful" and do the things of this world. This would make our heavenly Father unhappy. Therefore, get to know the Lord and love Him, then you will also always remain faithful to Him! jk

Additional verses: Psalm 101; Proverbs 3:1-3; Matt. 24:45-51; 25: 14-30