in Arabic
Matthew 10:25 It is enough for the disciple that he be as his master, and the servant as his
lord. If they have called the master of the house Beelzebub, how much more shall they call
them of his household?

Revelation 1:17-18 ...Fear not; I am the first and the last: I am he that liveth, and was dead;
and, behold, I am alive forevermore, Amen; and have the keys of hell and of death.

1 Corinthians 1:3 Grace be unto you, and peace, from God our Father, and from the Lord
Jesus Christ.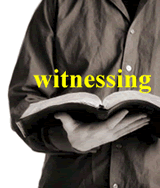 As a child of God I like to testify about Jesus. I have realized that many people like to talk about God and also to hear about Him, however, they do not want to know anything about Jesus. The truth is that they have their own understanding about God. Many believe in their own self-made God of whom they have made up themselves. I want to tell you that there is only one, true God alone: His name is Jesus!

Jesus is the almighty God who is able to give you eternal life in His glory and a life in abundance here on this earth, if you so desire it and give your life to Him. He came upon this earth and took on human form, in order to take our place on the cross at Calvary to die for our sins and take the curse of sin upon Him. He was spat upon, stoned, and hated. He was rejected and called a devil. On the third day, Jesus rose from the dead and by His sacrifice on the cross He bought our redemption. As His church and His servants, we will also be treated in the same way. You should not be surprised when you suffer trials and persecution because of Jesus. This is a sign of the love and grace of God upon your life.

"Blessed are ye, when men shall revile you, and persecute you, and shall say all manner of evil against you falsely, for my sake. Rejoice, and be exceeding glad: for great is your reward in heaven: for so persecuted they the prophets which were before you." (Matthew 5:11-12).

Repent and be baptized in the name of Jesus Christ and you will receive the gift of the Holy Spirit; this is the rebirth of water and Spirit; as a result, you will be born into the kingdom of God. May God bless you. dka