| | |
| --- | --- |
| Spiritual lessons for Christians >>> | |
Spiritual lessons for Christians
LESSON 8
The Places we never expected to go
Scripture Text: John 14:1-4
Joh 14:1 Let not your heart be troubled: ye believe in God, believe also in me. In my Father's house are many mansions: if it were not so, I would have told you. I go to prepare a place for you. And if I go and prepare a place for you, I will come again, and receive you unto myself; that where I am, there ye may be also. And whither I go ye know, and the way ye know.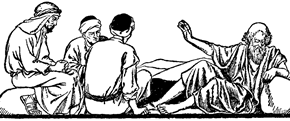 Opening thought: When we initially experience Christ because of the ecstasy of this new reality or the newness of this born-again relationship, we feel the security of heaven and identify with a provision and protection that is not known or provided in this life. We in the flesh for the first time identify with the Almighty. He provides us an atmosphere of provisions and unspeakable joy! But that joy in order to increase to a greater sphere must experience mourning, grief and even rejection that our salvation is not consumed only in the desires or comforts of the flesh, but that we enter a realm of spirituality. The Lord wants to introduce us to the realm of the eternal whether it's good or bad; He wants us to be acquainted with the realms of darkness because He has supplied us with the power through His blood and Spirit to overcome those dark forces.
Job 1:6 Now there was a day when the sons of God came to present themselves before the LORD, and Satan came also among them.

Notes: Satan was the leader of fallen angels, he lead the rebellion against the throne of God, so at this time he still has visitation rights. The Sons of God refer to the assembling of angels to give their reports.
Job 1:7 And the LORD said unto Satan, Whence comest thou? Then Satan answered the LORD, and said, From going to and fro in the earth, and from walking up and down in it.

Notes: Satan walks to and fro not on the earth but in the earth seeking who he may destroy.

Job 1:8 And the LORD said unto Satan, Hast thou considered my servant Job, that there is none like him in the earth, a perfect and an upright man, one that feareth God, and escheweth evil? Then Satan answered the LORD, and said, Doth Job fear God for nought? Hast not thou made an hedge about him, and about his house, and about all that he hath on every side? thou hast blessed the work of his hands, and his substance is increased in the land. But put forth thine hand now, and touch all that he hath, and he will curse thee to thy face. And the LORD said unto Satan, Behold, all that he hath is in thy power; only upon himself put not forth thine hand. So Satan went forth from the presence of the LORD.
Pastor Larry F. Gregg