Newsletter of April 2007

In the name of Jesus Christ
Our human nature let us believe in the existence of something, when we see it with our eyes or touch it with our hands; these two senses were from the beginning the source that many people depend on to believe things and put their faith in it.
When the LORD Jesus Christ came from Samaria to Galilee, a certain noble man asked him to come down and heal his son in Capernaum and Jesus anwered him, "Except ye see signs and wonders, ye will not believe." (John 4:48b), and when Jesus told him that his son is alive, the man believed the words Jesus said, but this faith wasn't complete, because when he came back, he asked his servants about the hour, which his son was healed and they told him that fever left the boy in the 7th hour.
It was in the same hour in which Jesus spoke unto him, "Thy son lives". The Bible states then that this man and his whole house believed (John 4:43-53)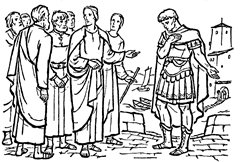 But in the example we see in Matthew 8:8: The centurion told the Lord Jesus "I am not worthy that thou shouldest come under my roof: but speak the word only, and my servant shall be healed." This man had a strong faith that even Jesus spoke about him, saying: "Verily I say unto you, I have not found so great faith, no, not in Israel. " (Matthew 8:10)
Thomas confirms what Jesus said: (Except you see signs and wonders you will not believe), when he said, "Except I shall see in his hands the print of the nails, and put my finger into the print of the nails, and thrust my hand into his side, I will not believe." (John 20;25), but what did the LORD say? He said: "Blessed are they that have not seen, and yet have believed." (John 20:29)
The LORD knows us more then we know ourselves and He knows which one of the two examples we belong to (we are), and helps us, when our faith is weak and He compliment and bless us, when our faith is becoming strong and firm.
So let us hold on to our faith, and let us heed to what the LORD says in Rev 3:11: "Hold that fast which thou hast, that no man take thy crown." Jesus promised: "Behold, I come quickly:"
May the Lord be with you. es