in Arabic

Newsletter of August 2008

In Jesus name,
Among the many symbols of Christianity, the cross is a very important one. Many thoughts, emotions and questions arise in the mind of anybody who reads about the crucifixion of the Lord Jesus. It happens that some receive an answer that make them believe and get saved, while others receive an answer that make them refuse the faith and consequently they choose the way of destruction.
The Apostle Paul said in 1 Cor 1;18 For the message of the cross is foolishness to those who are perishing, but to us who are being saved it is the power of God. What the Lord Jesus did by his death on the cross, was to redeem all humanity in order that they shall be saved and he died once and for all. On the other hand the process of crucifixion is an ongoing process in a believers life, by denying the lust of the flesh and clinging firmly to what is good and accepted by God.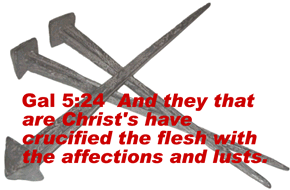 The Apostle Paul said in Romans 8;36 " For Your sake we are killed all day long; we are accounted as sheep for the slaughter." The rich man who kneeled at the feet of the Lord Jesus asking Him, how he can inherit eternal life, received an answer that made him sad the answer was to carry his cross and follow the Lord Jesus. Mark 10:17-21 Now as He was going out on the road, one came running, knelt before Him, and asked Him, "Good Teacher, what shall I do that I may inherit eternal life?" So Jesus said to him, "Why do you call Me good? No one is good but One, that is, God. You know the commandments: 'Do not commit adultery,' 'Do not murder,' 'Do not steal,' 'Do not bear false witness,' 'Do not defraud,' 'Honor your father and your mother.'" And he answered and said to Him, "Teacher, all these things I have kept from my youth." Then Jesus, looking at him, loved him, and said to him, "One thing you lack: Go your way, sell whatever you have and give to the poor, and you will have treasure in heaven; and come, take up the cross, and follow Me."
Carrying the cross is not done by putting on a necklace with a cross out of gold or silver or other material, but it is the spiritual carrying of the cross by crucifying the desires of the flesh and world and living in holiness and cleanliness to be accepted by our Lord. This man was rich and of course loved his fortune and didn't want to crucify the desire and love for his fortune in his life. But he was sad at this word, and went away sorrowful, for he had great possessions. Mark 10:22
The Apostle Paul stated in Galatian 6:14 But God forbid that I should boast except in the cross of our Lord Jesus Christ, by whom the world has been crucified to me, and I to the world. And this is what we should be proud of or boast in. es