in Arabic
Psalms 119:10-11 "With my whole heart have I sought thee: O let me not wander from thy commandments. Thy word have I hid in mine heart, that I might not sin against thee."
Jeremiah 17:9-10 "The heart is deceitful above all, things, and desperately wicked: who can know it? I the LORD search the heart, I try the reins, even to give every man according to his ways, and according to the fruit of his doings."
God is Spirit and made us humans in His image. As a Spirit, God does not have flesh and blood. However, we humans are composed of spirit, but every person also is made up of spirit, soul, and a body. God's nature is Spirit, however, Jesus, our Lord and God, came upon the earth to free us from our sins; He took on human form and prepared Himself a body, just like we possess. He put on flesh and blood so that He could die for us - the perfect lamb of God, who alone could take away our sins. Jesus Himself never committed sin or inherited a sinful nature from his earthly father, for He did not have an earthly father.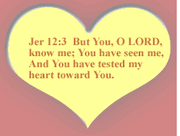 We have a heart, which simply means our inner being, and which you cannot see with the natural eye. This is only possible for God. However, the heart of mankind is evil. If the heart of a person is sick, then the whole person is sick. Whatever a person allows into his heart, will influence him and lead him in a certain direction. The heart is important, for without a heart you cannot live. God made it to be that way.
If an individual is born again of water and Spirit, then Jesus lives in his heart. His heart has been renewed by the power of the God. He can have a personal, intimate and spiritual relationship to God, because God is Spirit. We can deceive people because they cannot look into our hearts. However, we can never deceive God because He made us and knows our hearts. He knows everything that is in our hearts. A person is unable to look into our hearts, but rather they only see what is on the outside. God, however, is able to look into our hearts. Therefore, it is important that we keep our hearts clean, so that God can live in it.
We should seek God every day and spend time with Him, and let His Word be absorbed into our hearts. Lead a life which is pleasing to Him. We can only do this by the grace of God and with the help of the Holy Spirit. Trust Jesus with your heart and depend on Him and not upon people. God bless you. dka