Newsletter of May 2007

In the name of Jesus Christ

Many agree today that peace is a fundamental element to achieve security, stability and progress in all directions of life. Lack of peace might cause to become homeless, scattered, and might lead to a loss of values and morals, which happens to individuals and families alike.

We blame the "absence of peace" for these circumstances, though peace is not necessarily the peace of a country or a nation or a community that lives on the earth today, but the peace starts from inside of ourselves.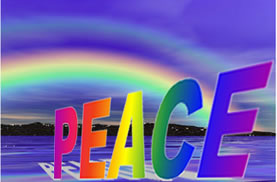 Jesus said: "Peace I leave with you, my peace I give unto you: not as the world giveth, give I unto you. Let not your heart be troubled, neither let it be afraid." (John 14:27) Jesus gave us peace in the middle of this disordered and confused world, when He gave us the Holy Ghost, because the holy spirit comforts us and helps us also to bear our problems and to find solutions for it. David said: "Yea, though I walk through the valley of the shadow of death, I will fear no evil: for thou art with me; thy rod and thy staff they comfort me."
David's heart was filled with a warm peace, when he wrote this psalm, he knew that the Prince of Peace is His savior. Isaiah 53;5 says: "The chastisement of our peace was upon him; and with his stripes we are healed." Jesus drew the way of peace for us through His painful stripes that He received, laying the foundation of mercy and love, He drew the way of the kingdom of God for us to walk in it, so if we want to have it, then the Bible tells us: "For the kingdom of God is not meat and drink; but righteousness, and peace, and joy in the Holy Ghost." (Romans 14:17)

Thus if you want this peace into your soul and in your heart, you need to receive the Holy Ghost and if it is this way, then why don't you do it according God's plan that He outlined in the Book of Acts to save mankind, as the apostle Peter proclaimed in Acts 2:38 "Then Peter said unto them, Repent, and be baptized every one of you in the name of Jesus Christ for the remission of sins, and ye shall receive the gift of the Holy Ghost."

The God of peace is the one, who makes the marvelous things and He is the one who
1. shall bruise Satan under your feet (Rom 16:20)
2. and He sanctifies us and preserves our spirit and soul and body blameless (1. Thess 5:23)
3. He makes us perfect in every good work (Hebr 13; 20+21)
4. He will be with us (Rom 15:32; 2 Cor 13:11 and Phil 4:9)

And the peace of God, which passeth all understanding, shall keep your hearts and minds through Christ Jesus. (Phil 4:7)

And God will be with you. es