in Arabic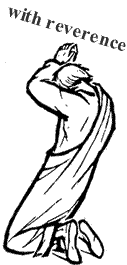 Malachi 1:6
A son honors his father, and a servant his master. If then I am the Father, Where is my honor? And if I am a Master, where is My reference?
Reverence: "a feeling or attitude of deep respect tinged with awe." Reverence is defined as an attitude. Leviticus 19:30 (NKJV) states, "You shall keep My Sabbaths* and reverence My sanctuary." How often do we enter His sanctuary with reverence - a deep respect tinged with awe?

Anything less than reverence is contrary to His command. We are also called to reverence God Himself: "God is... to be held in reverence by all those around Him" (Psalm 89:7, NKJV), Today, let us check our attitude toward God and His sanctuary. Is it an attitude of reverence or of indifference? "[We be] deeply reverent before God. For God is not an indifferent bystander. He's actively cleaning house, torching all that needs to burn, and he won't quit until it' s all cleansed. God Himself is Fire!" (Hebrews 12:28-29, The Message). Let us be conscious of our attitude, for God has called us to reverence. mst
* To read more about the subject of the Sabbath, please check out the short Bible study (only available in English language): "SHOULD CHRISTIANS KEEP THE SABBATH?"
Scriptures for further Study: Job 4:6, Leviticus 19:30 Psalm 89:7 Hebrews 12:28-39